To work together for the systematic success of the student management and teaching sectors in the producing of qualified engineers.
To work for teaching issues, the systematic and continuous improvement of student discipline issues. To complement the student management process of students in a timely manner.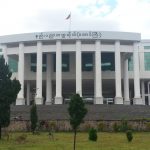 Engineering Education for Holistic Development.
| No | Name | Degree | Position | Photo | Email |
| --- | --- | --- | --- | --- | --- |
| 1 | Daw Tin Tin Moe | B.A (Geo) | Office Superintendent | | |
| 2 | Daw Hlaing Hlaing Win | B.Sc (Zoology) | Branch Clerk | | |
| 3 | Daw Than Than Naing | B.A (Geo) | Branch Clerk | | |
| 4 | Daw Ni Ni Win | B.Sc (Chemistry) | Branch Clerk | | |
| 5 | Daw Aye Aye Aung | B.Sc (Stat) | Branch Clerk | | |
| 6 | U Zin Bo Bo | Grade - 10 | Pyone | | |
| 7 | Daw Zar Chi Aye | Grade - 10 | Pyone | | |